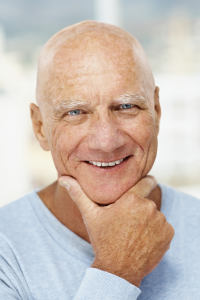 5 FU (5-Flurouracil)
as a Treatment Option for Actinic Keratosis
5-FU is a topical medication that is used to treat actinic keratosis and skin cancer. This topical medication is used in the treatment of actinic keratosis as well as the treatment of skin cancer. It inhibits the replication of cells with an abnormal growth rate, which effectively causes the actinic keratosis to die off over time.
Treatment procedures can vary slightly depending on concentration and thickness of the actinic keratosis, however, in most cases the topical is applied to the lesions once or twice a day for at least 4 weeks. This causes the area of the skin to become inflamed and swollen. Several weeks after the medication is complete, it is expected that the actinic keratosis will be removed.

5-FU is an effective medication for treating actinic keratosis, and also rarely leaves any scars which are common drawbacks of treatments that involve physical destruction of actinic keratosis.
The other major advantage is that being a topical medication, it can be used to treat larger areas of actinic keratosis, where the area would be too large to remove surgically.
One drawback of this medication is that it causes the area that is treated to become inflamed, raw, and irritated. As this discomfort can be significant and prolonged, patients may have difficulty complying with the directions.

5-FU is sold under a variety of brands such as Adrucil, Carac, Efudex, and Fluoroplex depending on your location. Sometimes this treatment is combined with cryosurgery for greater efficiency than 5-FU alone.
Related video playlist: Sun Damage and Skin Cancer